Hello Penguins.
This is a huge spoiler for the Upcoming party If you want to keep it a Surprise DO NOT click Read more
Today,A Penguin on twitter named Peng50gi Showed us a Picture in the Club penguin Files About the next Club Penguin Party!
And yes,It's an Original Party,It's a Fashion Party!
The fashion party will be in August,Im very happy,Club penguin didn't do an Original Party for a long time!
The last fashion party was in 2012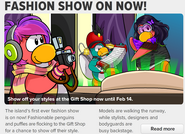 For those that do not know whats a Fashion Show in Club penguin,Then it was a one-room party in Club Penguin that occurred from February 1 to February 14, 2012. The event was confirmed in the Club Penguin Times. The Gift Shop was the only decorated room.
Now,if you are not Believing the Picture that we showed to You then we have PROOF by the Club penguin Team,To be more specific,Megg….I shall say no more and you should check this Picture
What do you guys Think?Are you glad that Club penguin is doing an Original Party?
Waddle on
Doc !